Looking for Coupons? Shopper's Voice is the place.
Posted on
Shopper's Voice is a different kind of website that you might not have tried before.
We are used to voicing our opinions to earn cash. Shopper's Voice offers it's members rewards with opportunities to collect coupons, samples, and other special bonus offers for participating in their surveys.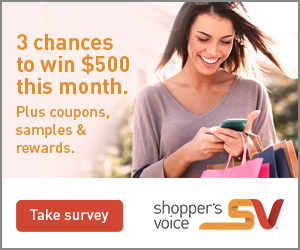 This company works with brands and businesses to find out more about what consumers want and what shoppers are thinking about their experiences with various products.
This is a win-win for us. We get to not only receive coupons and free samples from the brands we love, but we get a chance to influence them to make them better at the same time.
Try Shopper's Voice today!